How eye tracking became a content creation tool?
I produdly built an award-winning eye-tracking Twitch extension tha thas been usedby +5000 streamers and YouTubers globally, reaching 50million viewers every month promoting the technology at a zero marketing costs - evaluated as USD$900k revenew in earned media.

But to get the full story, there is two ways to explain this: 
b) The short story:
Tobii had a gaze visualization tool that they have been using for marketing consumer research, in that way, this tool was designed originally to indentify user shopping behaviours, and performance research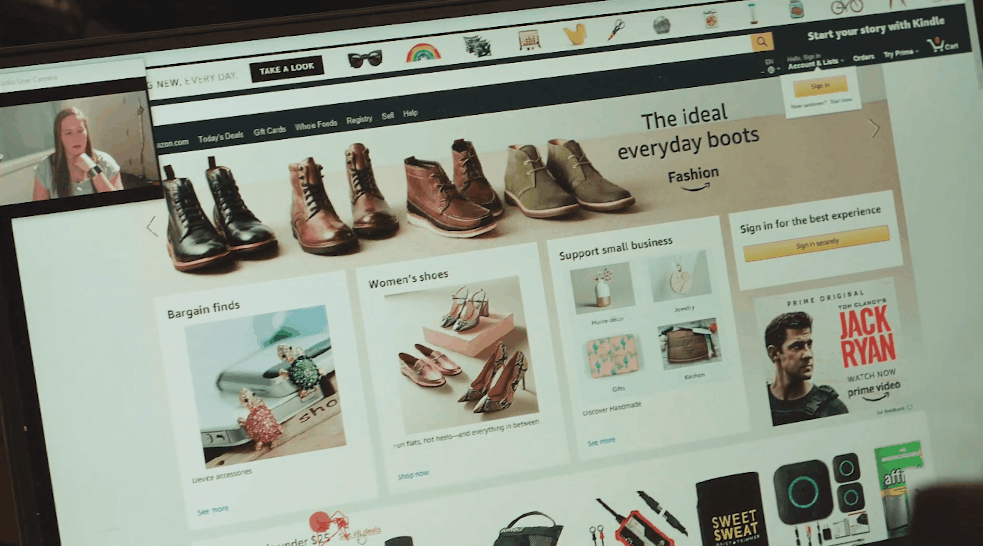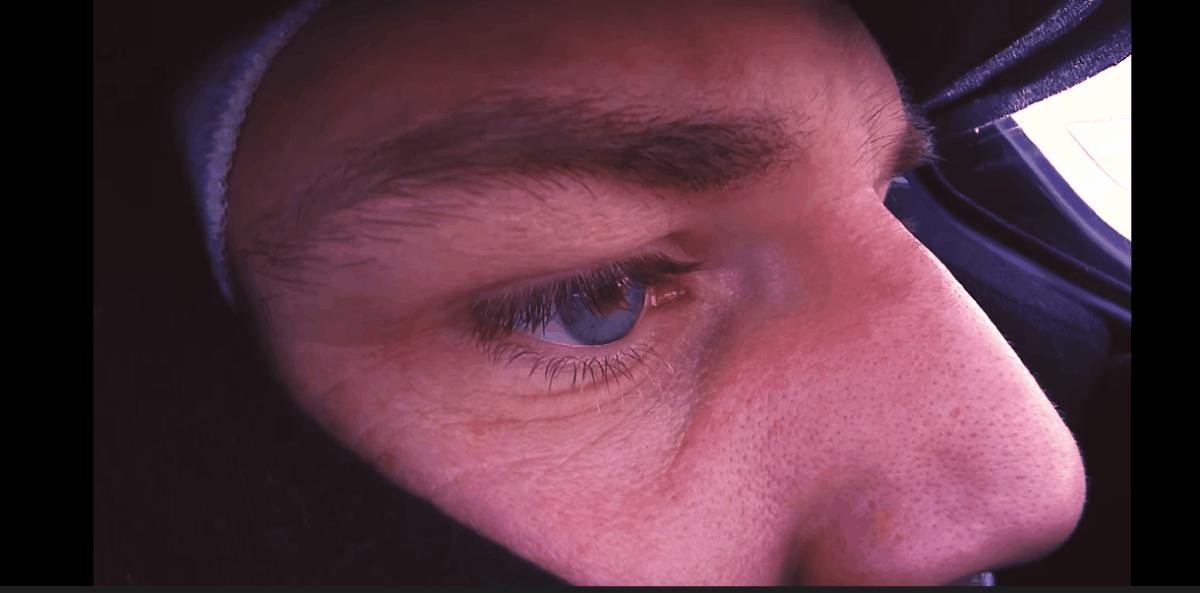 As humans, what we see gives away where is our attention. As an audience, if I can understand where the player attention is, I can understand the thought process behind a decision. Even better, If I know where the attention of the player is at all times, I can ever see how good is the player reaction time. 
Build an eye tracking tool for content creators that will allow their audience to see what they see.
From the developer side, to make this idea work, it would have to be it own software. Streamers and youtubers will need an eye tracker camera (mounted in the bottom of their screens) and to download and app that we branded as "Tobii Ghost"


This gave us the opportunity to build it in a way that the user needed to have this software (Tobii Ghost) open in order to stream with eye tracking. This was key to build a communication vehicle with the user and build a dedicated community.
Content creators have the perk of been very creative, we where where giving them a tool as the same time as we where exploring what it was possible with it. For example, some of them used te eye tracker to challlenge their audience by playing "Where is Waldo?", while other where using it for making "Try to dont look Challenge". Since we controlled the software we could see who was live with it and how they where using it, so we created a community hub inside the app to: A) Allow us as a brand to celebrate most creative usecase of our product and encourage more content creation by promoting the creator itself. B) Allow our usersbase to learn from each other.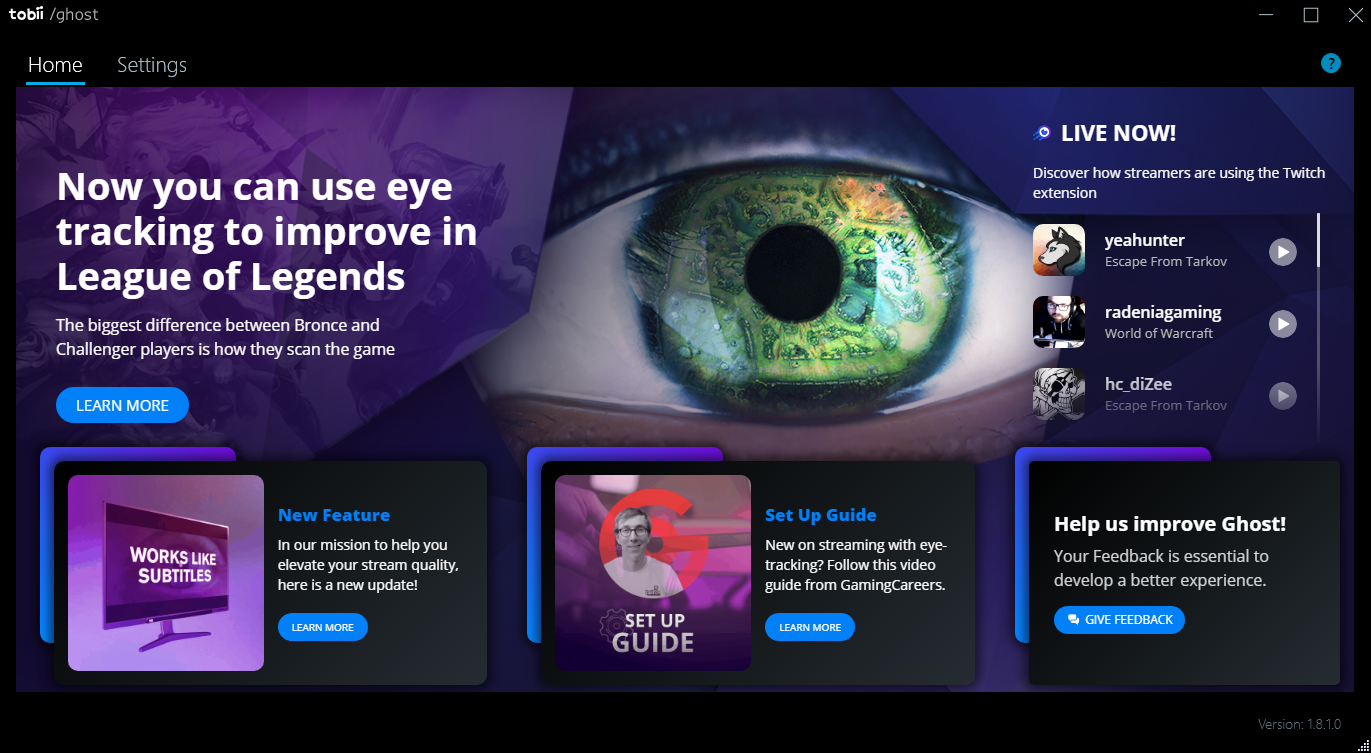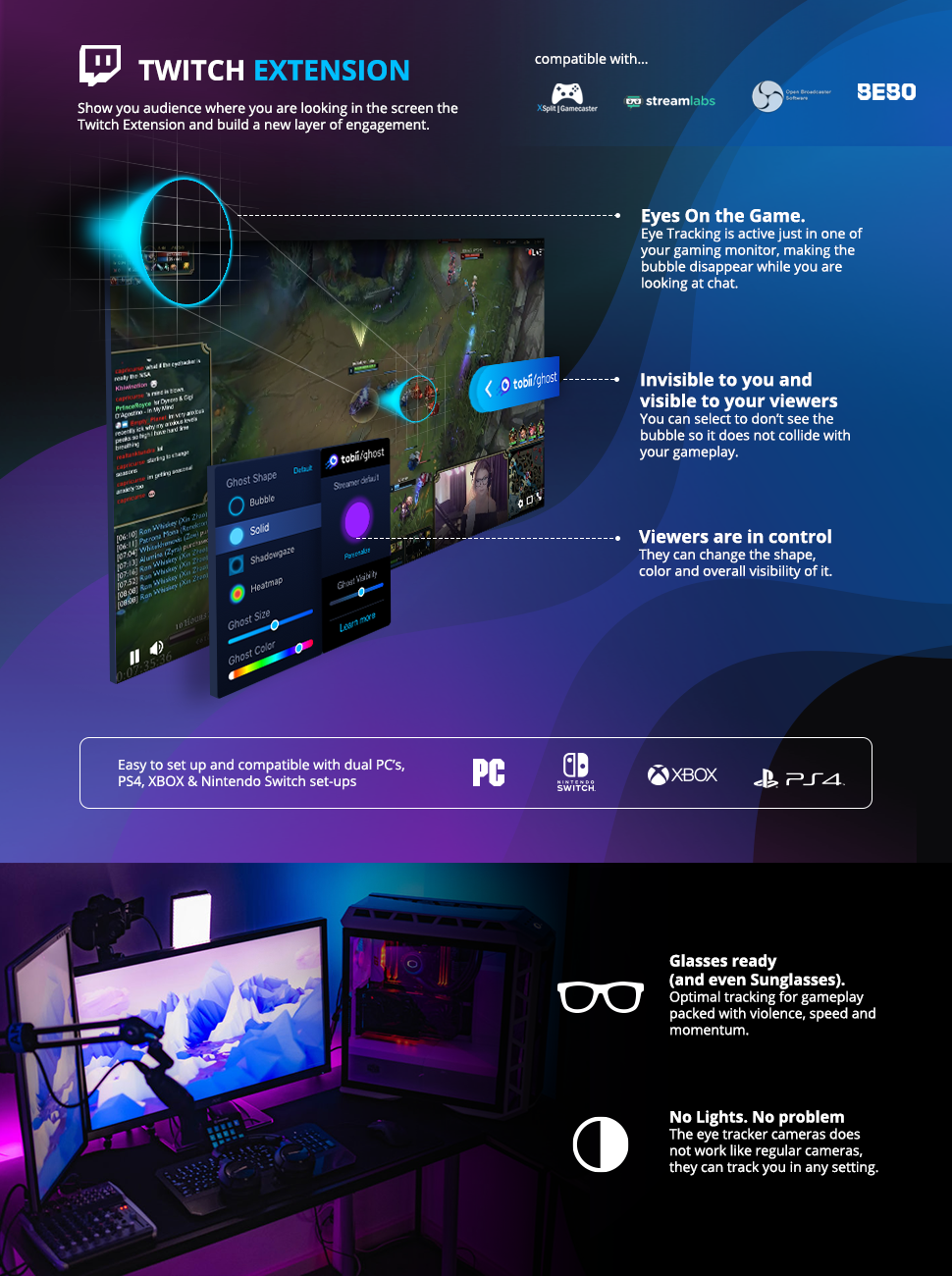 User centred design principles applied to the evolution of the UX/UI design of the Twich Extension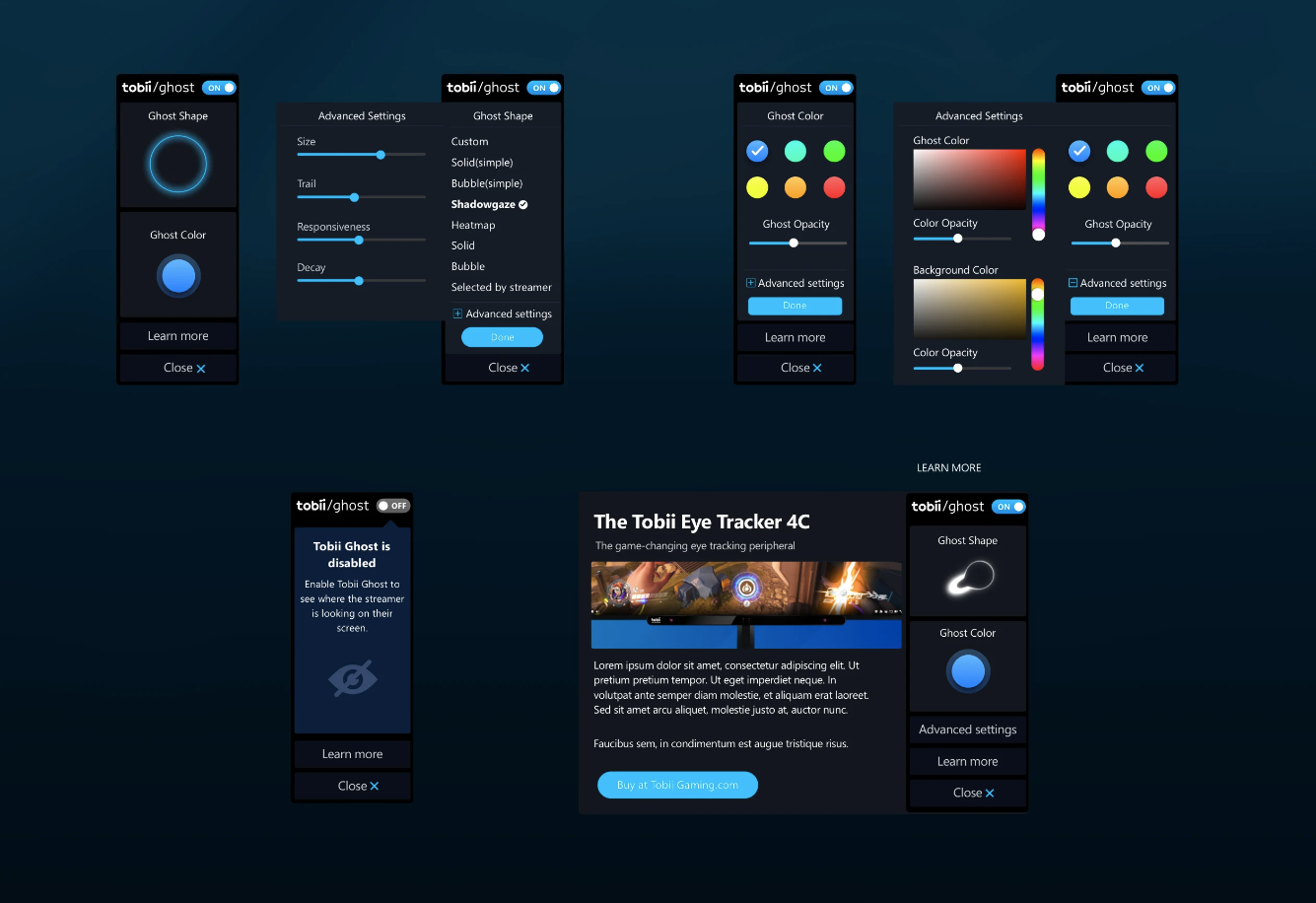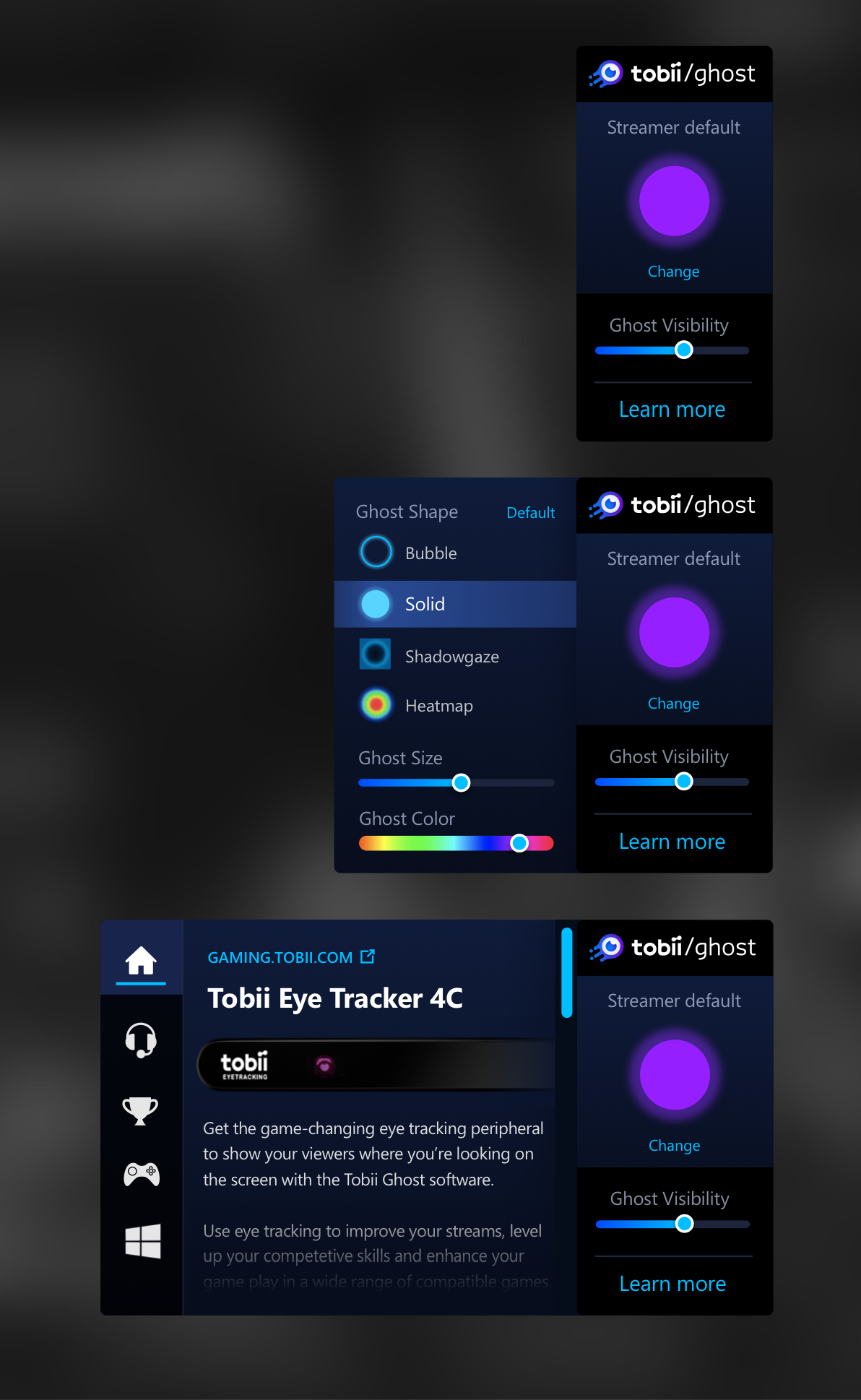 Alienware laptops have Tobii eye tracking cameras integrated, this allowed us to build a large range of co-marketing activations together, including an opening in esports Broadcasting. Today Tobii Ghost is present in PUBG, StreetFighter and Rainbox6 casts.
Tobii ghost been introduced as an esports broadcasting tool in CS:GO Boston Mayor